Parking Lot Repair Services

American Spray Tech offers a variety of parking lot services. Once your asphalt parking lot has been exposed to the weather and traffic, it will start breaking down. This deterioration will cause cracks and potholes. Your parking lot will need crack filling (or crack sealing), pothole repair, and asphalt patching (to name a few services) over the course of the life of your asphalt parking lot.


Many factors affect the condition of the lot. Some factors are out of your control - like the weather. However, you ARE in control of how you protect and prevent the deterioration. Create and maintain a

Preventative Asphalt Maintenance Program

and perform

asphalt maintenance

when necessary! It will SAVE YOU MONEY!

As your asphalt parking lot (or driveway) is exposed to the natural and man-made elements that affect asphalt, it will eventually break down. It is critical that you address the minor points of failure before they cause major headaches and require major (meaning COSTLY) repairs!

Each of the following points of failure can be addressed by American Spray Tech and thereby offering you continual protection to the underlying structure (or base) of your asphalt parking lot or driveway. Remember that the key is to protect the surface of the asphalt and provide a barrier at the surface so that water and chemicals cannot penetrate to the foundation of your parking lot or driveway.
| | | |
| --- | --- | --- |
| Hot Crack Filling | | |
| Infrared Pot Hole Repair | | |
| | | |
Asphalt Maintenance Programs offer property management companies, nationwide companies, regional business owners and residential clients a regular assessment of their property. This provides you with an understanding of the state of your property. With American Spray Tech's diagnosis of your asphalt condition, a game plan can be devised in order to renew and restore each of the problem areas.

Everyone benefits from the time and attention American Spray Tech spends on customer service. Both residential and commercial clients have come to realize that American Spray Tech wants to insure that you understand what is going on with your property and feel comfortable with the maintenance plan to extend the life of your asphalt.

Contact Us

Contact us in Winston Salem, NC for information about your seal coating, asphalt repairs, parking lot striping and parking lot maintenance needs.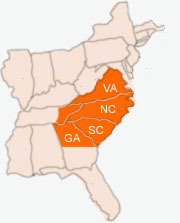 Call us @: 1-855-We Call AST / 1-855-932-2552

Serving the Southeast in North Carolina,
South Carolina, Virginia and Georgia



Regional Parking Lot Asphalt Repair North Carolina
Asheboro, NC | Asheville, NC | Burlington, NC | Chapel Hill, NC | Charlotte, NC | Concord, NC | Durham, NC Fayetteville, NC
Goldsboro, NC | Greensboro, NC | Greenville, NC | Hickory, NC | Highpoint, NC | Lexington, NC | Mooresville, NC | Raleigh, NC
Statesville, NC | Wake Forest, NC | Wilmington, NC | Wilson, NC | Winston Salem, NC and the rest of NC

Regional Parking Lot Asphalt Repair South Carolina
Aiken, SC | Charleston, SC | Columbia, SC | Conway, SC | Florence, SC | Georgetown, SC | Greenville, SC | Myrtle Beach, SC
North Augusta, SC | North Myrtle Beach, SC | Rock Hill, SC | Spartanburg, SC | Sumter, SC and the rest of SC

Regional Parking Lot Asphalt Repaire Virginia
Danville, VA | Roanoke, VA | Richmond, VA | Williamsburg, VA and areas in between

Regional Parking Lot Asphalt Repair Georgia
Augusta, GA | Savannah, GA and areas in between

Residential Driveway Sealcoating North Carolina
Greensboro, NC | High Point, NC | Lexington, NC | Mocksville, NC | Winston Salem, NC and areas in between




"Whatever you do, work at it with all your heart,


as working for the Lord, not for men." Col 3:23